CWSS participates in international scientific workshop at Banc d'Arguin National Park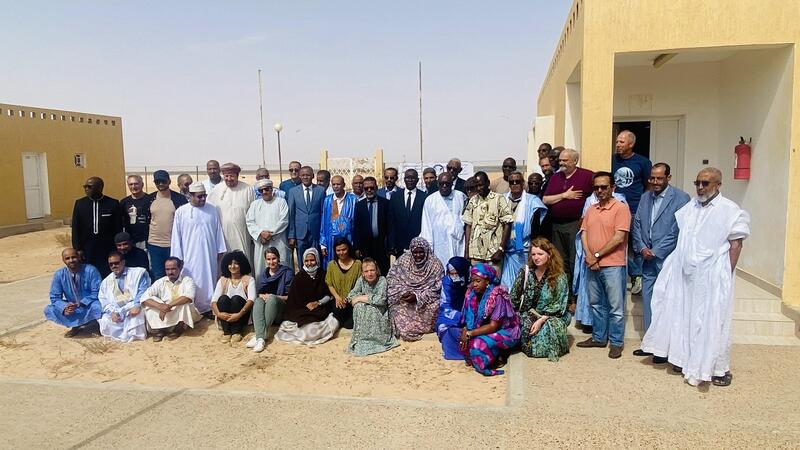 Common Wadden Sea Secretariat (CWSS) Flyway and Biodiversity Officer, Kristine Meise, took part in an international scientific workshop held in Iwik, Mauretania, in May 2022. The workshop with focus on geomorphological processes and biological changes at the Bellaât Lagoon was organised by CWSS's partner the Parque National du Banc d'Arguin (PNBA).
The close cooperation between the two World Heritage sites 'Wadden Sea' and 'Banc d'Arguin' has been ongoing for many years and focuses specifically on the conservation of migratory waterbirds, which rely on these two important ecosystems on their route from their wintering to the breeding grounds. Regular field visits, the exchange of information on best management practices and the development of collaborative projects are examples of shared activities that resulted from the Memorandum of Understanding signed by the CWSS and the PNBA in 2014. The workshop presented a great opportunity to discuss project ideas in-person after a long pandemic-induced pause.
The main focus of the workshop was a new lagoon which has formed in the northern part of the Banc d'Arguin, called the Bellaât Lagoon. After a breach of a sandy barrier beach close to Cap Ste Anne in 2013, a low-lying uninhabited area behind the beach filled with water. While similar events occurred from time to time along the coastline of the Banc d'Arguin, the Bellaât Lagoon represents a unique case as a channel has formed which continues to provide the lagoon with fresh water and as a result a new productive ecosystem has emerged. A field visit to the lagoon revealed large sea grass beds, that provide habitat for fishes, crabs and other benthos organisms, which in turn support multiple bird species.
Similar geomorphological conditions exist along the coast of Mauritania and the Bellaât Lagoon provides an exceptional opportunity to investigate the conditions that lead to the formation of such lagoons and to make predictions about the occurrence of similar events considering the impact of climate-change related sea level rise. At the same time assessments can be made about the importance of this lagoon for the biodiversity of the ecosystem Banc d'Arguin and its potential role in the fixation and sustainable conservation of carbon dioxide, CO2 from the atmosphere. "We had some truly inspiring discussions during the workshop on future research and management projects at the Bellaât Lagoon", resumes Meise. "We greatly appreciated the invitation, and we are looking forward to bringing our cooperation back to the pre-COVID level."