ITB talks: Working across borders to safeguard global biodiversity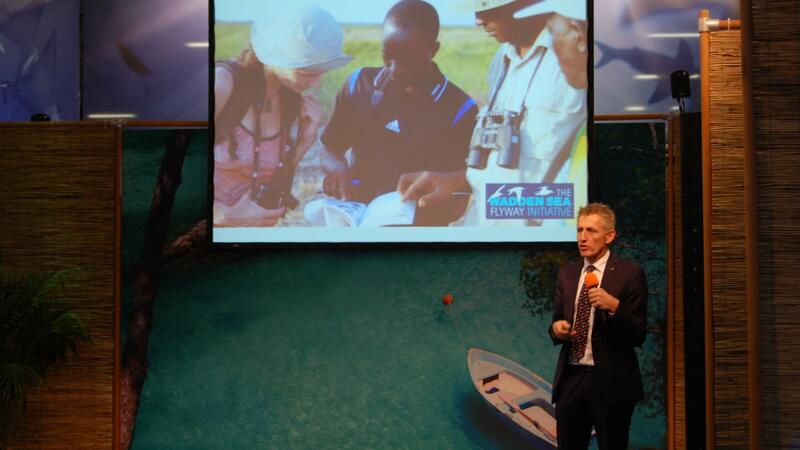 Nature conservation and World Heritage experts from Sierra Leone, Denmark, Germany, Italy, and the Netherlands will discuss the opportunities and challenges of working across borders at the ITB 2017 in Berlin. In cooperation with the UNESCO World Heritage and Sustainable Tourism Programme, the Wadden Sea World Heritage invited cooperation partners from around the globe to contribute to discussions on sustainable tourism. The talks will be held during the trade visitor days at the ITB, 9 – 10 March 2017, in hall 4.1.b.
"The World Heritage Convention is fundamentally a tool for international co-operation through a diverse global network. Its strength lies in the engagement between World Heritage properties to exchange experience and expertise", says Peter DeBrine, UNESCO World Heritage and Sustainable Tourism Programme Coordinator. DeBrine will discuss sustainable development strategies at World Heritage sites with Mariagrazia Santoro and Marcella Morandini, President and Director of Fondazione Dolomiti UNESCO, and Harald Marencic, CWSS Deputy Executive Secretary, on 9 March (hall 4.1.b, booth 228).
Cooperating across borders is also key to the Wadden Sea Flyway Initiative (WSFI). The initiative aims to conserve refuge sites for migratory birds along the East Atlantic Flyway from their Arctic breeding areas to their key Wadden Sea stopover and to the African coastline. The WSFI focusses on monitoring and capacity building and cooperates closely with the Conservation of Migratory Birds (CMB) project. "Trading notes on bird monitoring procedures has helped us improve our techniques and training methods", says bird expert Alieya A. Kargbo from Sierra Leone. "The Initiative has only been active since 2012 and yet the network behind it has already become very strong and fertile." Together with his colleague Momoh Bai Sesay and Peter Südbeck from the National Park Lower Saxony, Kargbo will showcase approaches to linking bird watching and tourism at the ITB's adventure stage in hall 4.1.b during the 12th PowWow on 10 March. Afterwards the discussion will be continued at the Wadden Sea stand with colleagues from the Danish, Dutch and German and Wadden Sea regions (hall 4.1.b, booth 228).