Korean delegation from Shinan County visit Wadden Sea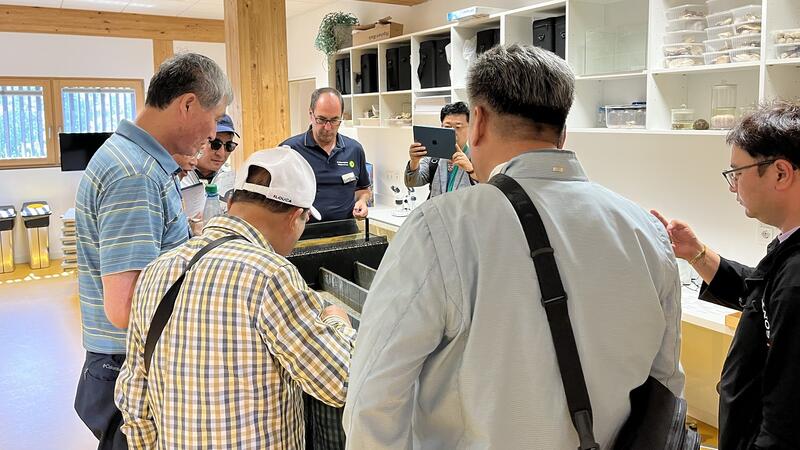 A delegation of seven persons from Shinan County, Republic of Korea, met with representatives of the Wadden Sea World Heritage Site in June 2023. The tour was conducted in the framework of the Memorandum of Understanding between South Korea and the Trilateral Wadden Sea Cooperation, that was signed in 2009 and updated in May 2023. The Shinan Getbol is one of the four component parts of the World Heritage Site "Getbol, Korean Tidal Flats". The county holds over 1,000 islands, 72 are inhabited.
Headed by the Shinan County's President Park Woo Ryang, the delegation of councillors of Shinan County, officers from the Department of World Heritage Management of Shinan County, and Prof. SeungSoo Chun made stops on Spiekeroog, Langeoog, in Cuxhaven, Tönning, and Esbjerg. Focus topics of the exchange where philosophy, forms & landscape, major exhibition points, management, and sustainable use of Wadden Sea visitor centres, such as Nationalpark-Haus Wittbülten, UNESCO Wadden Sea World Heritage Visitor Centre Cuxhaven, Multimar Wattforum, and Natur-og kulturformidlingscentret Myrthuegård. Others included tidal flat conservation combined with tourism, education and improving of awareness, especially on ecological tourism on islands.
Soledad Luna and Anja Domnick of the Common Wadden Sea Secretariat (CWSS) as well as IWSS Coordinator Anja Szczesinski of WWF accompanied the delegation on different legs of the tour.