Registration open for the 2023 East Atlantic Flyway Youth Forum on storytelling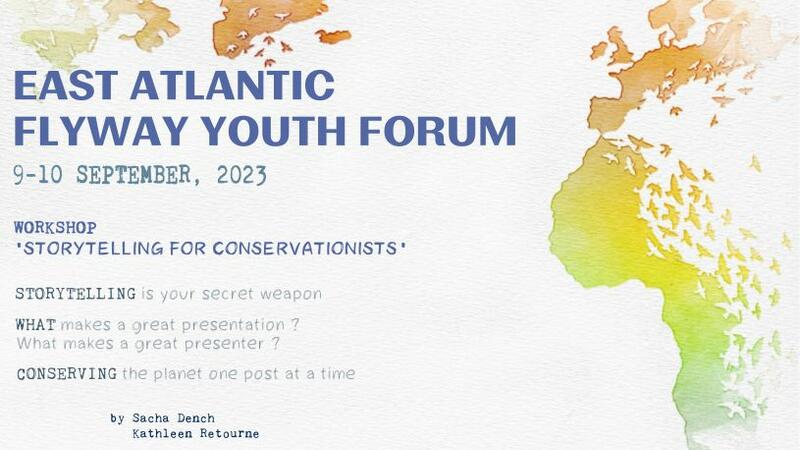 Effective communication is key when working with stakeholders from different backgrounds. It is imperative to understand each other's perspectives to reach a consensus on how best to implement sustainable solutions. But how do we communicate effectively? This is the focus at this year's East Atlantic Flyway Youth Forum (EAFYF) on 'Conservation Storytelling', held online, 9-10 September 2023, organised by the Common Wadden Sea Secretariat, Migratory Birds for People, and Youth Engaged in Wetlands. Registration to participate is now open.
The East Atlantic Flyway Youth Forum serves as annual platform to young wetland conservationists to develop a useful skillset previously identified as needed, especially from a flyway perspective. The aim of the EAFYF 2023 is to train young people in 'Conservation Storytelling', thereby increasing their capacity to successfully communicate with a variety of stakeholders using different communication channels. A survey of previous EAFYF participants and interested parties identified the specific needs and existing capacity for storytelling. The learning aim is to build compelling conservation stories directed at local communities and visitors of nature reserves through social media and personal interactions. Workshop leaders Sacha Dench and Kathleen Retourne from Conservation Without Borders developed interactive training sessions on these topics based on their ample and exceptional experience in conservation storytelling. 
Registration to the forum is open until 31 July. Places are limited. Young people aged 18-30 from coastal countries along the East Atlantic Flyway with experience or a specific interest in migratory birds or wetlands conservation are asked to submit application via this form . Participants will be selected based on geographical, professional, and age relevance, while also considering gender balance and criteria like time commitment.
More information can be found in the concept note on the event page. The reports of previous forums and the youth declaration published in 2022 are available online.