Wadden Sea Flyway Initiative represented at AEWA meeting with side event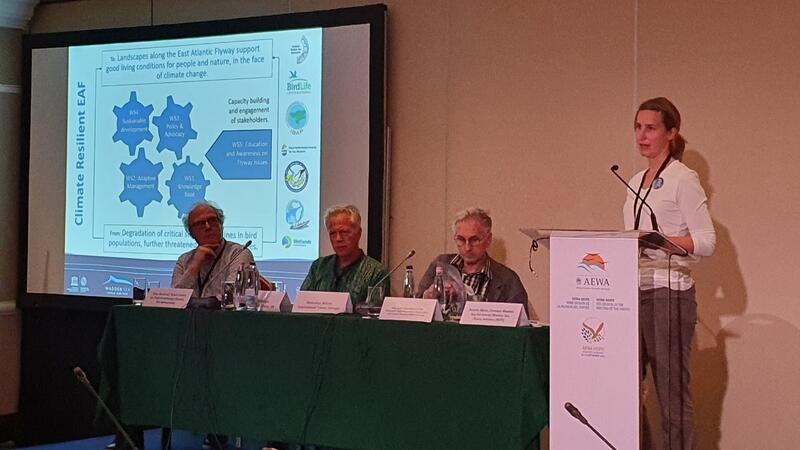 "Strengthening Flyway Conservation in a Changing World" is the official slogan of the 8th Meeting of Parties of the African Eurasian Waterbird Agreement (AEWA) which is currently taking place in Budapest. More than 150 delegates and observers from Africa and Europe have come together to make decision regarding the implementation of the Agreement, for the benefit of migratory waterbirds along the African-Eurasian Flyways. As the Wadden Sea is at the heart of the East Atlantic Flyway, the CWSS participated as an observer in the event, and in collaboration with partners and line with the slogan organized the side event 'Wadden Sea Flyway Initiative (WSFI) – Joining forces to respond to climate change effects along the East Atlantic Flyway'.
After a brief overview on the two key programmes of the WSFI (monitoring programme and capacity building & management programme), CWSS and partners gave an outlook on future directions of the WSFI, and the specific focus on climate change adaptation and mitigation to ensure climate resilience of sites along the entire flyway. The aim of the side event was to exchange views on priorities for the conservation of migratory birds along the East Atlantic Flyway under changing climatic conditions.
Can we identify common targets which can be addressed through future partnerships? Facilitated by Mr Abdoulaye Ndiaye an effective discussion ensued among participants of the side event, highlighting key climate issues in their countries, possible solutions, but also obstacles that prevent these solutions being implemented. Beside the lack of financial resources, missing capacity and a lack of political support were frequently named, highlighting possibilities for future collaborations. With more than 40% of the AEWA populations decreasing, joint efforts are urgently needed.
The Agreement on the Conservation of African-Eurasian Migratory Waterbirds (AEWA) is an intergovernmental treaty under the framework of the Convention on Migratory Species (CMS). It is dedicated to the conservation of migratory waterbirds and their habitats along the African Eurasian flyways. More than 80 parties have signed the agreement which covers 255 migratory bird species (560 populations) that depend on wetlands for part of their annual cycle. The Wadden Sea Flyway Initiative partners with AEWA, with many WSFI activities directly contributing to the implementation of the AEWA plan of action.